The Pukhtun social reformer and political leader Abdul Ghaffar Khan, affectionately known as Bacha Khan (King Khan) and the "Frontier Gandhi", is revered far beyond his native Khyber-Pakhtunkhwa province of Pakistan for his non-violent struggle against British colonialism.
My Life and Struggle, an English translation of his Pukhto autobiography Bacha Khan: My Life and Struggle, was launched at the first ever all-virtual Lahore Literary Festival, Feb. 18-21. The event featured prominent writers, authors, historians and journalists from Pakistan and around the world.
The book has been published by Roli Books, India and Folio Books, Pakistan, with a foreword by Rajmohan Gandhi. The Pakistan edition includes back-cover blurbs by Malala Yousafzai (also on the Roli publication) and internationally acclaimed writer Ahmed Rashid, besides the author of The Pathan Unarmed Mukulika Banerjee, associate professor at the London School of Economics, and Pakistani rights activist and politician Afrasiab Khattak.
Mukulika Banerjee and Afrasiab Khattak were panellists at the LLF2021 book launch Saturday. Shandana Humayun Khan, chair of Culture Connect Pakistan, moderated the discussion.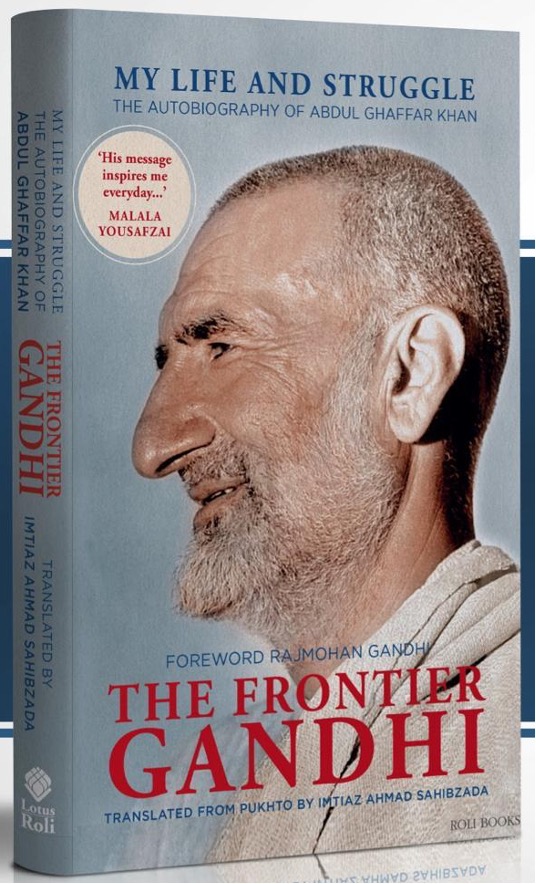 An earlier version of My Life and Struggle was published in Delhi, 1969, by K. B. Narang and Helen Bouman. Bacha Khan (1890-1988) had narrated his life story to Narang in Urdu while in exile in Jalalabad, Afghanistan. Narang recorded the narration and translated it into English.
Feeling that the account was incomplete, Bacha Khan began to write his own autobiography with the help of numerous associates. Published in Pukhto in 1983 in Kabul, it was subsequently published by others, including the Bacha Khan Trust in Peshawar.
The book launched at LLF2021 is the 1983 version, translated from Pukhto by retired senior civil servant Imtiaz Ahmad Sahibzada who has done other significant translations from Pushto also.
Banerjee was a master's student in Delhi when Bacha Khan died in 1988. She remembered his death being "big news" in India.
"India had offered him a burial place between the memorials of Gandhi and Nehru but Bacha Khan said he did not want to be buried in either India or Pakistan but in Jalalabad, his home."
She recalled that there was a 24-hour ceasefire in the Afghan war for his funeral, attended by thousands.
Banerjee added the history books carry few accounts of Bacha Khan's followers, the Khudai Khidmatgars. When she met them for her research for her book Pathan Unarmed, "they could not believe that somebody was asking them about their struggle 50 years after independence".
Ghaffar Khan stands tall in the pantheon of leaders of the movement for independence for his teachings of non-violence, adopted by his Khudai Khidmatgar (Servants of God) movement, especially during the struggle for independence against British colonists in British India.
His success in mobilising the Pukhtuns of then North-West Frontier Province and the tribal areas through a non-violent struggle, had significant bearing on this movement, in which the Khudai Khidmatgar allied with the Indian National Congress party.
During the struggle for independence, the Khudai Khidmatgar lost more workers than any other party engaged in this fight.
Bacha Khan also dedicated his life to the social reform of the Pukhtuns, who traditionally adhere to a strict code of life called 'Pukhtunwali', governed by rigid tribal norms.
Today the principles of the Khudai Khidmatgar bear even greater relevance to the Pukhtuns and to others in this troubled part of the world. Since the start of the conflict in Afghanistan, the social fabric of Pukhtun society, in both Pakistan and Afghanistan, has been rent asunder by war and destruction, homes and villages decimated. Pukhtuns form one of the largest refugee communities globally.
Recording of the LLF panel on Bacha Khan's autobiography My Life and Struggle.
An increasing consciousness amongst the Pukhtuns against violence, oppression and war has led to a resurgence of the teachings of Bacha Khan. His powerful political weapon of non-violence, his emphasis on including women in all walks of life, his belief in religious tolerance and pluralism are, today, values that bear increasing relevance to the people of this troubled region.
Banerjee said her "wonderful friend" Habibullah who lived near Bacha Khan's home town Charsadda drove her around looking for old Khudai Khidmatgars in villages of Kohat, Dera Ismail Khan, Bannu and Swat.
These old activists shared with her how they were punished for their activism before independence, and jailed and silenced after 1947. Because of the persecution, they had burned their red shirts, papers and other traces of their fight for independence. Many of them had lost connections with each other after their party was banned.
Half a century later, they reconnected due to Banerjee's work.
Afrasiab Khattak, who worked with Bacha Khan following the latter's return to Pakistan from exile in 1972, credited the late leader with introducing modernity, politics and reforms to Pashtun society.
"He focused on education and spoke of giving up the culture of revenge. He raised a voice for the peasants and modernized the Pashtun way of life. He introduced democracy, saying the leaders should be elected."
Bacha Khan's autobiography is very relevant in the contemporary world, he said, adding that sadly, Pakistanis lack good history books.
Although a practicing Muslim, Bacha Khan he never wore his religion or practices on his sleeve, said Khattak.
Throughout his life, Bacha Khan stood for non-violence and peace. "He opposed the war in Afghanistan and tried his best to end it. He wanted the Soviets to pull out of Afghanistan. He told the people that it was not really their war but that of superpowers".
The Pukhtuns, an ethnic group numbering about 50 million, form a large part of the population of Afghanistan and a minority in Pakistan. They also form a large diaspora community in many other countries, having been displaced by war and conflict in their troubled region.
In both countries a series of panel discussions have launched the book. The tremendous response indicates how important non-violence is in our region today.
— AKA