A virtual gathering of peace activists from both East and West Punjab across the border of India and Pakistan turned into a night-long assembly on the eve of their respective Independence Days.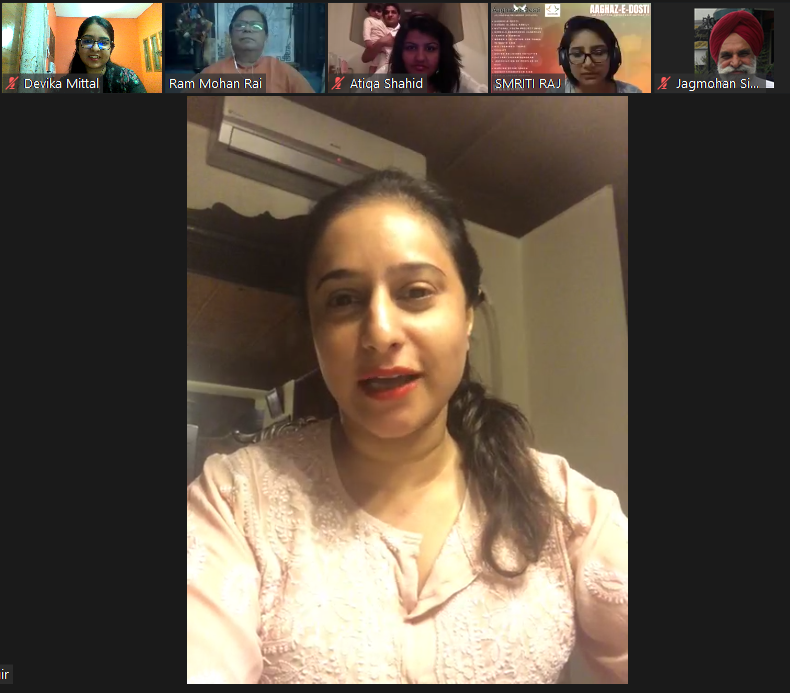 The event, held annually since the mid-1990s, has traditionally involved activists converging on their own sides of the border at Attari-Wagah even during times of turbulence and tensions between the two nuclear-armed powers. This year, they were forced online due to restrictions because of the coronavirus pandemic.
"Guftagu azaadi ki chale chalo ke woh manzil abhi nahi aayi" – Keep going with dialogue for freedom as we have yet to reach our destination, was the underlying theme of the even interspersed with cultural expressions and conversations on freedom.
The midnight peace vigil organised by the Pakistan-India People's Forum for Peace and Democracy (PIPFPD) and youth peace organisation Aaghaz-e-Dosti enabled activists on both sides to bare their souls about the yearning for peace between the neighbouring countries.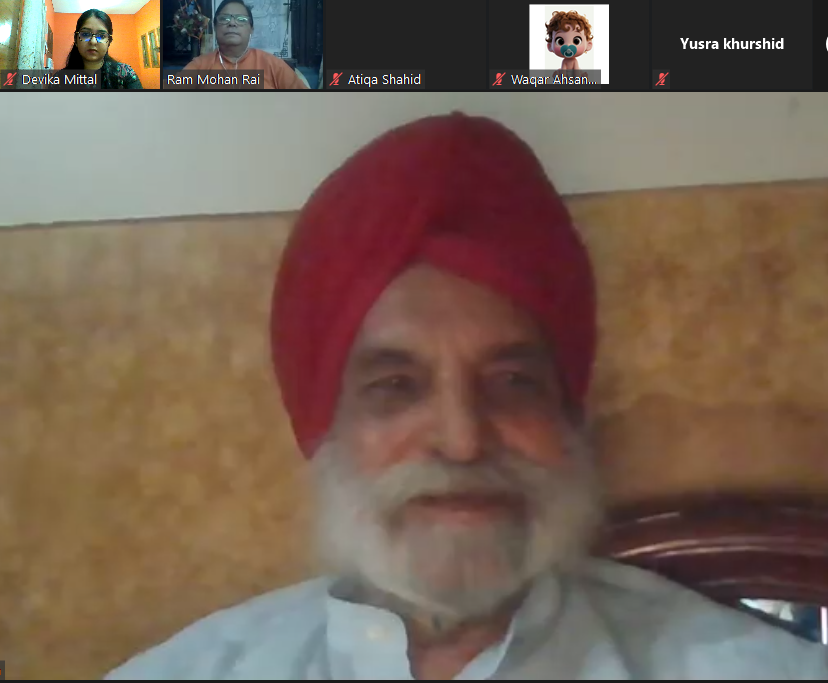 Martyr Bhagat Singh's nephew Prof Jagmohan Singh stressed the need for peace and regular interaction between the youth of both the nations. This hatred, he said, is unsustainable. It turns into mental sickness which can be eradicated with love.
He reminded listeners that Bhagat Singh fought for independence from the British, for a land where poverty and inequality would have no place. However, the countries which emerged from the colonial yoke are still rife with these unfortunate realities, after more than seven decades of 'independence'.
Jagmohan Singh also quoted the legendary Pakistani poet Faiz Ahmad Faiz's poem when Bhagat Singh and his comrades were executed, "Kab yaad mein tera saath nahi, kab hath me tera hath nahi…" (You are always with me, your hand always in mine…).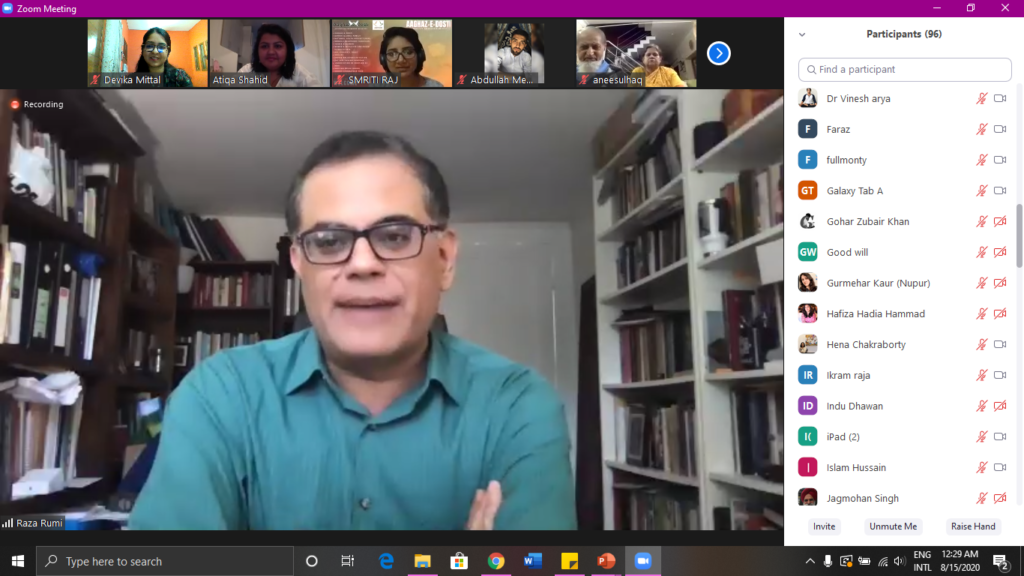 Introducing the event, social activist and advocate Ram Mohan Rai reminded participants that the late journalist Kuldip Nayar was among the pioneers who unfailingly participated in the August 14-15 joint Independence Days celebrations every year and had flagged off the peace march two years back shortly before his death. This joint event is also a legacy of leaders like Asma Jahangir, Nirmala Deshpande, Dr Mubashir Hasan and many others.
Asma Jahangir's daughter, television journalist Munizae Jahangir talked about her mother and fearless leader who always advocated Indo-Pak peace as an issue close to her heart. She decried how both countries are targeting human beings instead of fighting against environmental degradation and pandemics. It is time, she said, to initiate dialogue instead of fighting against the dignity of people. "These are testing times and we need to look for new opportunities beyond borders".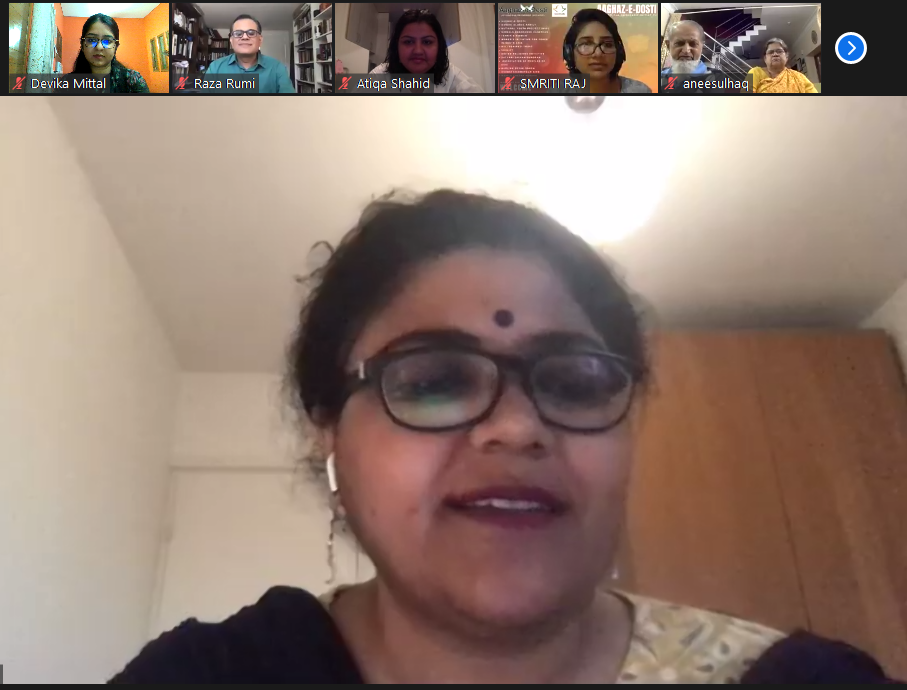 Senior Pakistani journalist, editor of Naya Daur, and author Raza Rumi echoed these sentiments, urging the leadership to look towards the future which is calling both sides to move together. The COVID pandemic has exposed the poor healthcare infrastructure in both countries. Instead of trying to find reasons to fight, both sides must focus first on priorities like food, water, shelter, employment, education and health. If they must wage war, let it be a joint war against climate change and to protect the environment.
"We are here because we believe in friendship across borders, believe in peace, we don't believe in narrow nationalisms. We have gathered to say we are not that wall that separates, we are the cracks in the wall, we will make new paths, we will light them in darkness" said feminist and social activist Kamla Bhasin.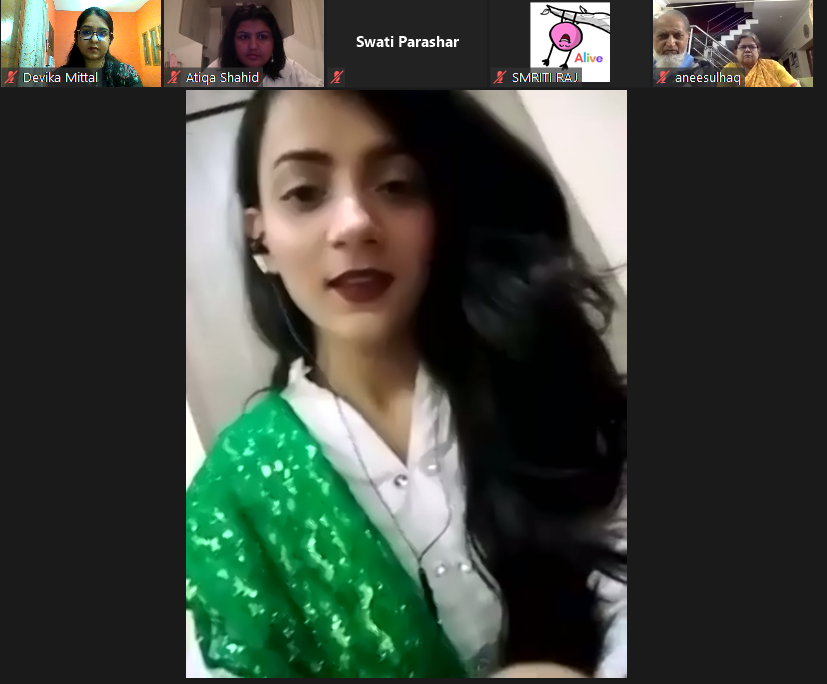 "The governments of India and Pakistan co-operate wonderfully to keep the people separate", quipped veteran journalist and activist I.A. Rehman, one of PIPFPD's founding members. "We ask for peace over buying arms and war". He said that it has been decades since colonial powers withdrew from South Asia and "the future of the people in subcontinent lies in open frontiers, in peace".
We are trying to conserve the rich history of friendship, love and peace across South Asia, said PIPFPD India chapter convener Vijayan MJ.
Aaghaz-e-Dosti India convener Devika Mittal stressed that the leaders of both nations Mahatma Gandhi and Mohammad Ali Jinnah, wanted good relations between them, "so this enmity is not the will of our leaders. People on both sides are being diverted from real issues and need to actively counter hatred based on nationality and religion".
Atiqa Shahid, AeD coordinator from Pakistan, appreciated the technologies that was enabling people to meet even if not in person, which "will lead to more peace and understanding". Our peace efforts, despite being small, have received so much support from the youth, the common people and the families of stalwarts like Faiz Ahmed Faiz, Asma Jahangir and Shaheed-e-Azam Bhagat Singh, she said.
'The neo-youth movement should develop international solidarity across South Asia. There is an attempt to rewrite history in contemporary politics across the world", said Ammar Ali Jan talking about South Asian solidarity and voices of love and peace.
"I am a gypsy, the entire world is mine, no demographic and no border can stop me moving. Moving in freedom", asserted Anwar Solangi from Sindh.
Renowned artist and academic Faiz Ahmad Faiz's daughter Salima Hashmi recited her father's iconic poem "dawn of freedom" and urged people to talk about peace and only peace.
Nighat Said Khan, Pakistani feminist activist, researcher and author reminded participants that the history of freedom in South Asia is a history of fighting oppression. "I would like to remember the people whom we have lost", she said.
"We need to recognise that we are communities of people and it was the colonial powers that brought the idea of nationalism to us", Tapan Bose, a PIPFPD founding member.
This year's event "was an amazing program put together in just a few days", says Kamla Bhasin. "Everyone, even friends from Bangladesh, Nepal and Sri Lanka joined at practically no notice". From Dhaka, activist and feminist Khushi Kabir pointed out that India and Pakistan have continued to build hatred and distrust among themselves, ignoring the rest of South Asia. "It is only with the people of the whole of South Asia coming together collectively that we can overcome this hatred", she said, explaining how her own past experience initially made it hard for her to accept Pakistanis as friends or allies, but it was the women's movement that helped her overcome the barriers. "It is when the people come together as one, that we can fight bigotry and hatred", she added, quoting Kamla Bhasin's slogan "Not love of power, but power of love" as the guiding spirit.
The Bangladesh part ended with a song by the iconic poet Nazrul Islam rendered by Dr. Nashid Kamal that remains relevant today for all nations. "Joy Houk…." (Let there be victory, victory of peace, victory of equality, victory of truth).Peace and conflict studies expert Swati Parashar of Gothenburg University, Sweden, noted while people on both sides share similarities which "is definitely a bridge to connect, we must also give importance to our diversity because the region is full of diversity" that must be cherished and valued for. Many Indians and Pakistanis become good friends when they have the opportunity to meet in third countries.
Nitin Mittoo from Punjab, India, shared his experience of traveling to Kartarpur.
Students from in Gujranwala, Pakistan, also participated and recited poetry and songs. Bindu Malini recited Faiz's poem 'Hum Dekhenge' in five Indian languages. Rene Singh recited 'Chal Bulleya' by Bulleh Shah. The programme concluded with people on either side lighting candles or using their mobile flashlights to show their collective hope towards a peaceful future.
Based on senior reporter Neel Kamal's report published in The Times of India, with other inputs – Beena Sarwar