American-Pakistani and Indian physicians, already in the frontlines of the Covid19 battle, step up in the war against a longer-running pandemic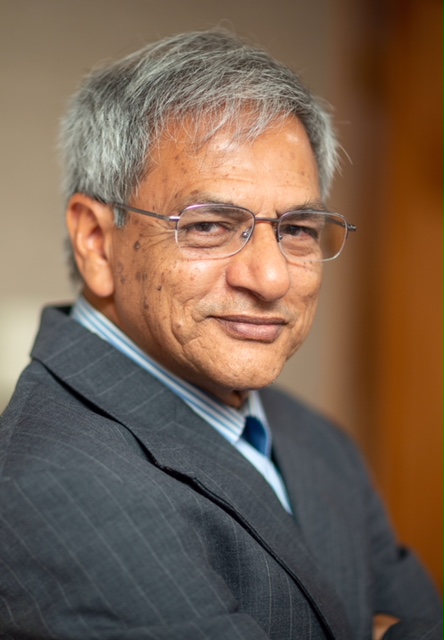 With the ongoing healthcare crisis exposed by the coronavirus pandemic, one would expect doctors to not even have time to scratch their heads. But something bigger than Covid19 is bringing physicians in America out on the streets – a more deeply entrenched pandemic that has been festering for centuries. The unprecedented protests catalysed by the murder of George Floyd at the hands — or rather knee — of a white police officer, Derek Chavin on May 25, 2020, in Minneapolis, are the biggest demonstration the country has seen since the Civil Rights movement of the 1960s. However, as many activists have pointed out, Floyd's murder was just one in a long line of such deaths.
Since George Floyd's murder, an organisation called White Coats for Black Lives (WC4BL) has again gained visibility. Founded in the fall of 2014 by medical students who "felt called to action by the #BlackLivesMatter movement", WC4BL grew out of the protests against the non-indictment of police officers responsible for the deaths of Black men Michael Brown and Eric Garner.
But "medical school campuses remained silent and detached" says the WC4BL website. "Medicine is not immune to the racism that pervades our education, housing, employment, and criminal justice systems". The issue, they demand, must be addressed as "a public health crisis".
Health professionals in agreement with their stance have been coming out at medical institutions and teaching hospitals around the country, taking a knee for 8 minutes and 46 seconds – the time Chavin held down Floyd.
Boston-area health professionals recently added another dimension to these protests with a public demonstration initiated by Pakistan-origin physicians affiliated with the Association of Pakistan Physicians of New England (APPNE), a chapter of the Association of Physicians of Pakistan-descent of North America (APPNA).
Held in front the historic Boston Public Library – near the site of the 2013 Boston marathon bombing – the rally was marked by the endorsement of various other organisations, ranging from the Indian Medical Association of New England (IMANE), Aligarh Medical Alumni Association of North America (AMAANA) and Alliance for Secular and Democratic South Asia to local community organizations and faith-based groups: ANSWER (Act Now to Stop War and End Racism), The Boston Coalition, Massachusetts Peace Action, Party for Socialism and Liberation, Civil Rights Committee, Boston Youth Organizing Project, Families for Justice and Healing, and Revolutionary United Front, Imamia Muslim Foundation Boston, Islamic Council of New England and Hindus for Human Rights.
The main speaker, Alicia Barrow, a part-indigenous and part-Black woman and co-founder of Safe Spaces for BIPOC (Black, indigenous, People of Color), is the mother of five who drove two hours from Vermont to Boston. She began the event with a "land acknowledgment" – an increasingly popular way of starting public events with a recognition that the land on which the event is taking place belongs to indigenous communities who were forcibly removed.
She also read out the names of Black people killed by police over the past couple of years.
"I was surprised to learn that there were so many Black people killed by police that it took her 20 minutes to read out their names", commented Dr. Shujat Ali, a podiatrist from Lucknow.
He was among the 300 participants who attended the rally, wearing masks and maintaining a physical distance.
Police killings claim over 1000 lives a year in the USA, more than half of them Black or people of colour. The perpetrators are rarely, if ever, indicted. This reflects a history of oppression and systemic racism that protestors are seeking to dismantle.
Referring to racism as "a profoundly important infection point" APPNA president Dr. Naheed Usmani stressed the need to "confront and dismantle the centuries old structure of racism that has marred the system, Institution and way of life".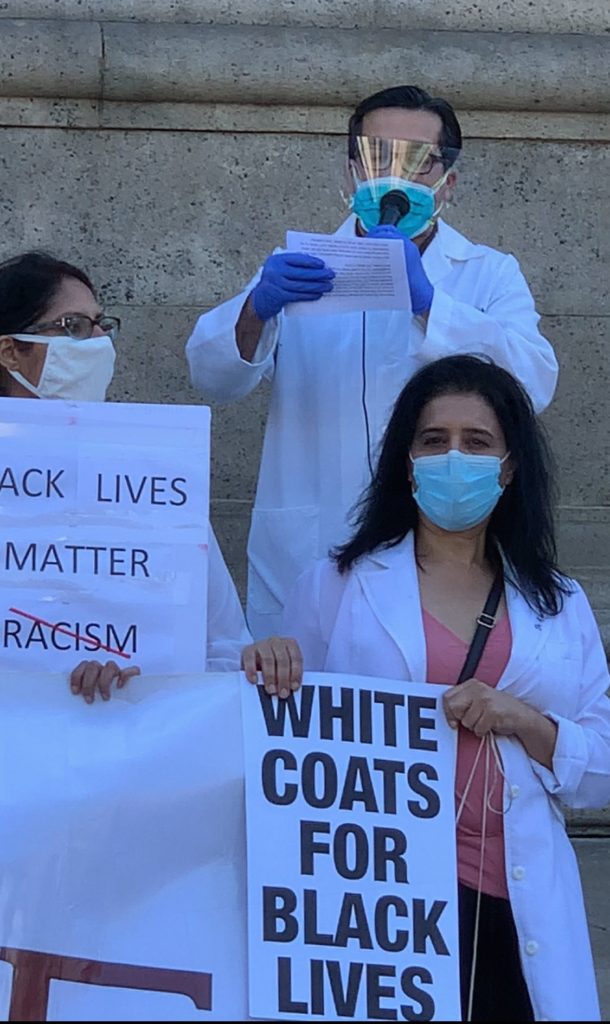 In this election year, she urged rally participants to "vote, volunteer and speak up when we see injustice."
Past presidents APPNE, infectious diseases specialist Dr. Asimah Qayyum and dental surgeon Dr. Salman Malik who initiated the event echoed these sentiments.
"Enough is enough" said internal medicine specialist and vice president APPNE Dr. Javed Saud, who led the chant, "No justice…" to which the crowd responded "No peace".
The rally featured independent speakers like oncologist Dr. Lachelle Weeks, who talked about the thousands of emails she has been receiving from well-wishers wanting to express their support. Growing up as a Black woman in America, she said, her life was punctuated by hearing about such incidents. "If you are awakening to this reality for the first time, then your first step as an ally is to ask yourself, how the hell did I sleep through all of this?"
"Dark skin is not a crime", said Dr Raagini Jawa, a young physician of Indian origin and another independent speaker and addressing the rally. "We have to look at structural inequities beyond the pandemic… As a healthcare worker I can't ignore that. We have to get educated – and VOTE – work together regardless of ethnicity or religion".
Dr. Khalil Khatri, event moderator and past president APPNE read out the IMANE statement as the Indian Medical Association was unable to send a representative.
Representing two Muslim organisations, IMF and IMCNE, Dr. Zafar Naqvi talked about how Islam deals with racism. "As a psychiatrist and psychoanalyst, I can easily see the psychological aspects of ingredients of racism and its roots linked to trauma."
"The speakers were eloquent, and I am glad they made the connection about the disparities in medical care, which puts the Minorities [Black-Americans, Hispanic] at a disadvantage", said rally participant Dr. Muhammad Ramzan, past president of APPNE, and current president of the Worcester Islamic Center (WIC).
Videos from the rally will feature in South Asians for Black Lives, an upcoming series of short films being produced by the Boston Coalition, an inter-generational "South Asian-led organizing collective in un-ceded Wampanoag territory (Boston)".
The involvement of South Asians, particularly physicians, adds a new dimension to the anti-racism movement erupting amidst the Covid-19 pandemic in America. As several speakers noted, the disease disproportionately impacts communities that are already disadvantaged and vulnerable. This is the case not only in the United States, but also in countries like Pakistan and India, birthplace of thousands of American physicians.
The writer is a Pakistani origin Boston-based engineer and author of Muslim Vote Counts and Recounts, Wyndham Hall, 2004. His parents hail from UP, India. Email: [email protected]. This article is published in collaboration with The News on Sunday.