The daughters of two noted poets of Pakistan participated in a protest in Lahore held in solidarity with students of students in India from Jawaharlal Nehru University, Jamia Milia Islamia and Aligarh Muslim University last week.
Noted poet Faiz Ahmad Faiz' daughter Salima Hashmi and noted writer, poet Fahmida Riaz' daughter Veerta Ali Ujjan met at the protest attended by students, teachers and civil society activists.
"Finding myself next to Fahmida Riaz's daughter Veerta, we spontaneously hugged one another in memory of the two poets who held dear the cause we were together for. May their words light up the pathways for the struggle of young people across our borders!", Salima Hashmi, 78, told Times of India.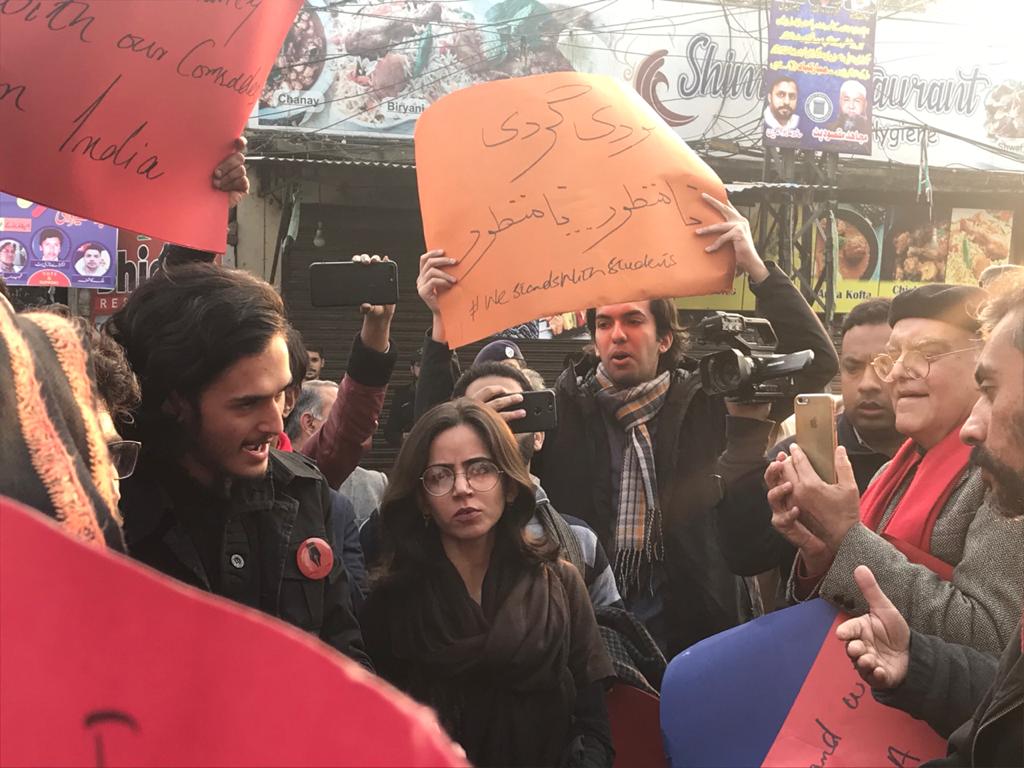 She said Faiz Ahmed Faiz and Fahmida Riaz had stood all their lives for the rights of civil society. She and Veerta had spontaneously attended the demonstration to pay tribute to thoughts of their parents. Besides this, "we are with the students if they are subjected to any repression," she said.
After UK, USA, Canada and Nepal, voices were raised in neighbouring Pakistan in support of protesting students of Jawaharlal Nehru (JNU) University despite worsening relations between two countries.
Demonstrations were held at Lahore and Karachi in Pakistan Wednesday tk January, with a score of students, teachers from various universities and activists of various organisations raising a voice against the merciless beating up of students from JNU, and earlier Jamia Milia Islamia, Aligarh Muslim University.
The student organisation Progressive Students Collective organised the protest at Press Club Lahore themed on Faiz Ahmad Faiz' famous poem 'Lazim hai ke hum bhi dekhenge" (It is essential that we too will see). The Inter University Feminist Union organised the protest at Karachi Press Club in solidarity with the resistance of students and professors in India.
Over 200 protesters assembled at Lahore Press Club, including activist Arooj Aurangzaib, who gained prominence for reciting "Sarfaroshi ki tamanna ab hamare dil me hai" (We are now ready to die for the cause) at the Faiz festival in late November 2019, Lahore. The poem, written by Bismil Azimabadi in 1921 as a rallying cry against the British colonists, has along with Faiz' 'Lazim', become an anthem for the students of both countries.
The demonstrators in Pakistan said they were standing in support of Indian students who are facing repression for protesting against issues like fee hike and opposing the Indian government's Citizen Amendment Act, similar to students in Pakistan who are struggling for the restoration of student unions and education related issues. Students in both countries are facing the wrath of authorities, they said.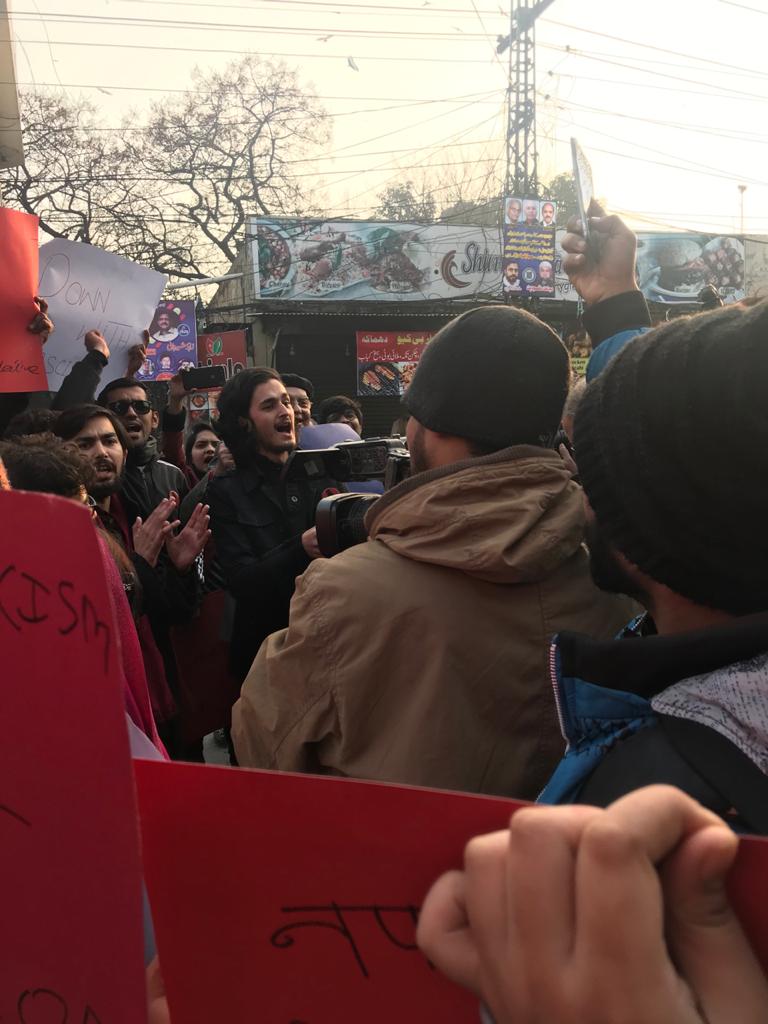 Repression on students happening anywhere is condemnable. Going by the incidents in India, the students and activists from Pakistan have supported them", said Salima Hashmi, who is in her own right a well-known artist and art professor and anti-nuclear weapons activist.
She is among the signatories of a recently issued joint statement by Pakistani activists, academics, journalists and others expressing solidarity with Indian and Pakistani students.
"India as the world's largest democracy is coming under focus on account of the grossly undemocratic actions of the union government for enacting discriminatory laws on citizenship and letting loose armed goons at non-violent protesters on campuses. Non-violent protests against government policies are a universally accepted fundamental right. Trying to suppress such protests through undemocratic means is highly condemnable", says the statement.
"We know from our own experience in Pakistan that acts of suppression introduce gross distortions in societies, and when nations slide into such distortions, intelligentsia remains the only source of sane advice. We express our complete solidarity with the non-violent protesters on Indian university campuses. We also express our complete solidarity with Pakistani students who are demanding the restoration of student unions in this country".
Other signatories to statement include economist Prof Akmal Hussain, physicist Dr. AH Nayyar, journalist and filmmaker Beena Sarwar, journalist activist Nasir Zaidi, columnist educationist Dr Naazir Mahmood, freelance journalists Farman Ali, Adnan Rehmat, activists Nusrat Jamil, Sheema Kermani, Fauzia Shahid, Ayub Malik and many more. The statement, open to more signatories, is online at this link.
Neel Kamal is a senior reporter with Times of India based in Bathinda, Punjab, India. This article is adapted from his report published in TOI, Lahore, Karachi students back JNU students, 9 January 2020.