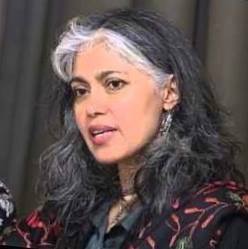 A photo shared recently in a family WhatsApp group shows Dilip Kumar in Sindhi topi and ajrak smiling next to the filmmaker Mushtaq Gazdar who had gifted him these traditional symbols of hospitality. They're at the Indian Deputy High Commission in Karachi around 1988, during the legendary actor's first visit to the land of his birth since Partition.
"I didn't even know there was an Indian High Commission in Karachi!" comments a young activist.
Not surprising, since it closed down in 1994; the Pakistan Deputy High Commission in Bombay even earlier. Babar Ayaz dug into the reasons behind these closures in 'The consulates snag' (Aman Ki Asha, 30 June 2010). Over a decade later, the snag has only worsened.
Dilip Kumar's visits to Pakistan, the awards and adulation he received in what he called his 'watan', and his love for Faiz Ahmed Faiz are all a matter of record.
"He was never ever jingoistic, which is quite a feat considering the times he lived in," comments Faiz's daughter Salima Hashmi.
He sent condolences to Faiz's family when the poet passed away in 1984. Then, at the first opportunity he got, he made it a point to meet Alys Faiz in Lahore, in 1988, together with wife Saira Bano and his brother Ahsan Khan who passed away in September 2020.
"They were very gracious; it was a memorable evening," says Salima Hashmi. "He was an extremely urbane man, able to build bridges over things like literature, poetry, culture. Very engaging and hospitable. That never wavered. It came naturally to him. He deeply appreciated all kinds of talent. The nation state never came into the equation."
He also visited his ancestral home in Peshawar, where he asked fans to give him an hour of solitude. Echoes of the poet Gulzar's words after his first visit to his birthplace Dina on the other side of the border: "All I wanted was a moment alone, to sit and weep" (Aman Ki Asha, 3 April 2013).
Standing outside, Dilip Kumar "felt like his grandmother was waiting for him inside" and was in fact right there, where she used to put him to bed; they exchanged imaginary words, he told Shakeel Wahidullah Khan, secretary of the Cultural Heritage Council or CHC, says a Deutche Welle report (Dilip Kumar: Bollywood legend who narrowed India-Pakistan divide, 12 July 2021).
"All this reflects how much he loved the city of Peshawar and its people," says Waliullah, whose CHC organizes an annual commemoration for Dilip Kumar's birthday. On July 7, they organised his funeral prayers.
Dilip Kumar is the only Indian to have received Pakistan's highest civilian award, Nishan-e-Imtiaz, 1998. The following year, he used his goodwill to intervene during the Kargil War, as then Pakistani Foreign Minister Khurshid Mahmood Kasuri has revealed.
"He is one guy who can bring India and Pakistan together", Kasuri responded when asked why he had visited the actor at his home in Bandra, Mumbai. His book Neither a Hawk nor a Dove (OUP 2015) also reveals that Dilip Kumar visited Pakistan secretly twice for this purpose and that Indian prime minister Vajpayee asked Dilip Kumar to join him on a phone call with Pakistani PM Nawaz Sharif.
Dilip Kumar urged them to diffuse tensions, in the best interest of people on both sides of the border, according to Kasuri.
The actor's intense desire for peace was driven by the fact that both countries were integral to his identity, believes Shakeel Waliullah. "His roots were in Peshawar, where he spent his entire childhood, and his future was in India, where he spent his youth, and built his career. He did not want to lose either part of his identity, which is why he wanted to forge closer ties between the two countries."
Dilip Kumar never played down his relationship with his birthplace despite the hostilities. He was a patriotic Indian but had no qualms in celebrating his heritage, his mother tongue, Hindko, or his vision for a peaceful future of the region.
"In his several pronouncements, he made it obvious why India-Pakistan peace mattered," writes journalist Raza Rumi in a piece for Naya Daur, the online Pakistani publication he edits that takes its name from a Dilip Kumar film (The Dilip Kumar Who Belonged to Both India and Pakistan, 11 July 2021)
It is because she asked to speak to "Yusuf Saheb" rather than "Dilip Kumar" that a senior journalist in India got to spend an hour with the actor at the Westend Hotel in Bengaluru, in 1998.
She says she was warned that he was very media shy and wouldn't entertain her but called the hotel. They connected her to the actor's suite — unthinkable now, given today's security and privacy concerns.
"Mujhey Yusuf Saheb se baat karni hai" (I want to speak to Mr Yusuf).
There was a momentary silence, then, 'Jee, main Yusuf bol raha hoon' (Yes, this is Yusuf).
"Aap ney Yusuf ka zikr kiya. Main ussey dhoondta hoon" (You mentioned Yusuf. I am in search of him), he told her during their conversation conducted almost entirely in Urdu/Hindi.
He was in his traditional white kurta pyjama, Saira Bano by his side. "Saira hee sab dekhteen hain (she does everything).
About Pakistan he said, "Wahan ki padaish hai meri. Yusuf kaheen kho gaya Dilip Kumar ki aaR main. Shukriya, aapney phir yaad dila diya. Log Dilip Kumar ko poochtey hain" (I was born there. Yusuf has got lost somewhere in Dilip Kumar's shadow. Thank you for reminding me. People only ask about Dilip Kumar).
About his silences on screen, he said: "Ehsaas zaroori hai, uska izhaar zaroori hai. Alfaaz nahi sab keh paatey hain" (It is important to feel, and to express it. Words can't express everything).
How did he do that famous scene in Mughal-e-Azam where he silently caresses Madhubala with a feather? "When you are in love, you don't need words".
He said that success makes one lonely. "Main Haj par jaa chuka hoon. Kitni baar Umrey par. Jitni baar jaata hoon Allah ki chaukhat par khatkhata hoon aur kehta hoon mujhey thoRa sukoon de do. Sukoon hai jo kaheen milta naheen" (I have done the Haj pilgrimage. I have been on the Umra pilgrimage multiple times. I knock on Allah's door and ask for peace. But peace is one thing I cannot get).
She prefers to share this "memory of meeting such a warm human being" anonymously.
The atmosphere today is "riven by acrimony" as senior journalist Kanak Mani Dixit in Kathmandu says, noting that Dilip Kumar represents an era when people believed that even if the nation states were separate, there would be ease of travel, and visa-free cross-border access (The Shared South Asian Legacy of Dilip Kumar, hosted by Smita Sharma, India Ahead News, 7 July 2021).
The legend has passed on. The dream of peaceful India-Pakistan relations and a visa-free South Asia lives on.
Beena Sarwar is editor Aman Ki Asha and founder/curator of South Asia Peace. This piece was first published in The News on Sunday Special Report on Dilip Kumar, 18 July 2021 as: A longing for peace