This year marked the first virtual launch of an annual calendar featuring children's paintings themed on peace between India and Pakistan. With the coronavirus pandemic halting in-person gatherings, over a hundred participants across the border and other countries attended the event.
The Ninth Indo-Pak Peace Calendar is the latest in the series of a flagship initiative by Aaghaz-e-Dosti (Start of Friendship), launched in 2012 by Mission Bhartiyam (Being Indian) in collaboration with various organisations and runs through a volunteer base.
The annual calendar is traditionally jointly launched in multiple cities in both countries, with prominent local activists and academics addressing seminars around the events. The theme of this year's discussion, held last Saturday, was 'Sharing of Hopes for a Peaceful and Friendly Co-existence'.
This year Aaghaz-e-Dosti joined hands with Tehrik-e-Niswan (Women's Movement) to produce the calendar. Spearheaded by Sheema Kermani, the Tehrik has long promoted art, women, and South Asian culture.
Despite the difficulties of connecting and collaborating virtually on such a large scale the organizers managed to pull off the event. They received over 200 paintings from around India and Pakistan, all with one message: Peace.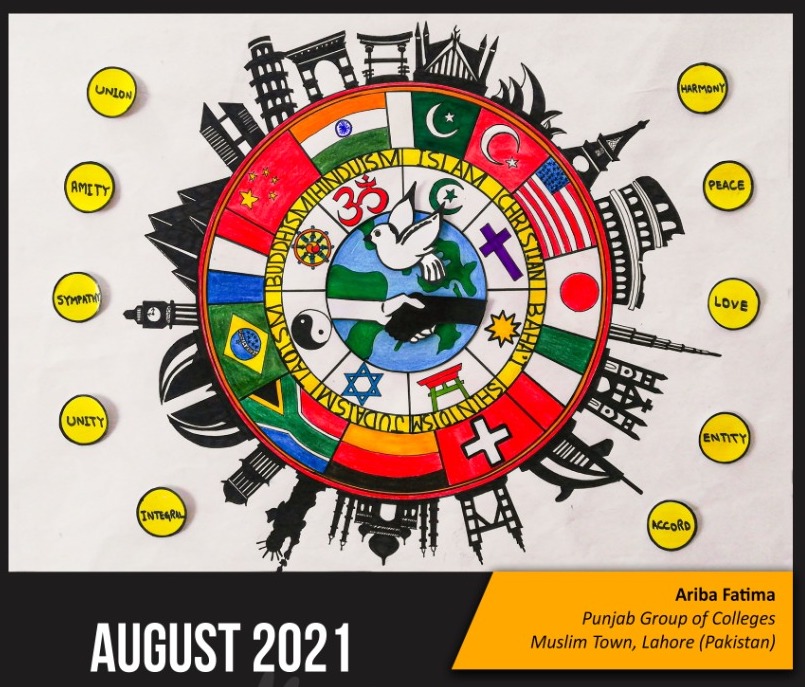 The organizers selected 24 paintings, one for each month's page, besides 12 shortlisted paintings featured on the end page.
Students whose artworks were selected shared the webinar to explain the concept behind their paintings.
Ariba Fatima, 17, a student at Punjab College Lahore, Pakistan focused on the importance of interfaith harmony and peace. "It's important for each nation to respect each other's ideas and narrative. War is not the solution to our issues, peace is", she said in a message to this writer later. "People of both countries want peace and love."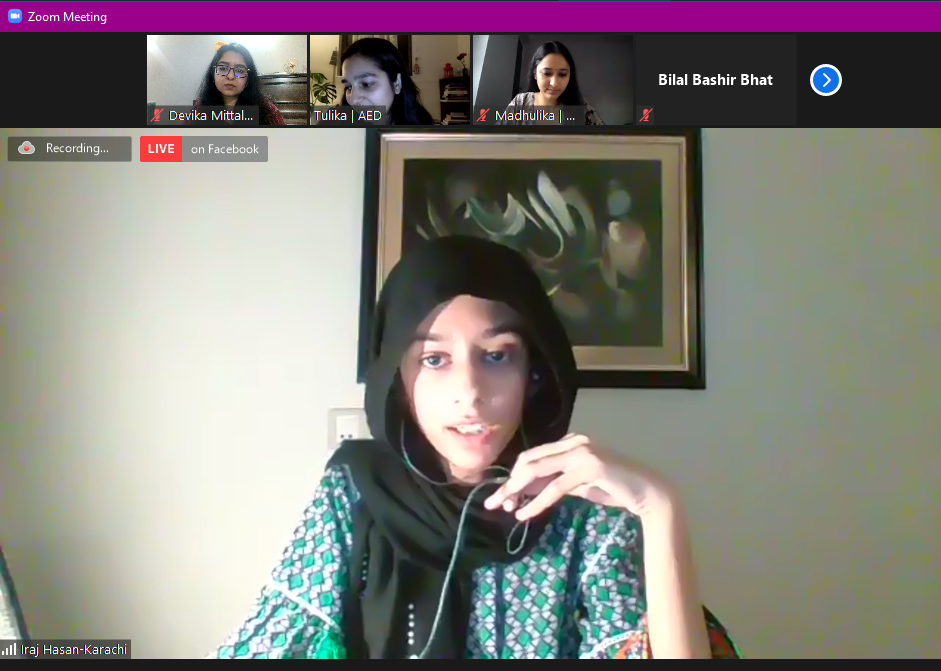 Sachneet Kaur, 15, a student of class 10 in Phaghwara, Punjab, India, painted a Rubik's Cube to symbolically depict the concept of problem-solving. "Resolving problems between states may be difficult but not impossible. There should be peace between the countries as there is a huge potential for expansion of trade", she said in a handwritten message after the event.
Artists and educationists can play a major role in promoting peace and molding students, activist, artist and Tehrik-e-Niswan founder Sheema Kermani told webinar participants. "Artists have the potential to connect people and spread happiness and positivity. We have a shared identity from past history to culture, poetry to art, which can help us to unite and spread love".
Serious efforts with students of both countries are necessary to progress, commented Saleem Kidwai, former professor at Jawaharlal Nehru University, Delhi. "Students are fed with stereotyped notions against each other which forms a barrier and does not let them explore one another".
He urged civil society to "push governments to open visas", allow exchange programmes and enable students to freely communicate with each other. This will not only help them but our states to grow as educational exchange programs help in breaking stereotypes and build lasting relationships.
For years India and Pakistan have been feeding hate, stereotypes and biases against each other, observed Dr. Devika Mittal, Convener of Aaghaz-e-Dosti, India. Such activities in educational institutes will facilitate dialogue and counter the notion that "peace has been one sided" she added.
This will also help nurture critical thinking, said Dr. Mittal, sharing how over the years various schools in India and Pakistan organized activities and cultivated trust through peace building.
The "enemy narrative prevalent on both sides" hinders the participation of educational institutes in general but they still do. Sometimes, schools participate out of mere curiosity. Aaghaz-e-Dosti's work over several years has helped build a level of trust, she said, but it's still hard. There is a sense of stigma about working on this issue, made worse by poor relations between both countries.
Raza Khan, Convener Aaghaz-e-Dosti Pakistan said that sates must accept that they cannot change their neighbors. "They have to learn to co-exist. There should be a limit to animosity because at the end of the day only the public suffers."
The narrative promoted by both countries has caused a lot of damage, making it even more important to continue creating awareness about peace. It is a long process but we need to start with students as they are open to discussions and learning new things, he said. Aaghaz-e-Dosti has connected students from both countries and helped them to know each other, communicate and exchange thoughts to break stereotypes and work towards peace.
The webinar ended with Himanshu Khatri's rendition of Sufi saint Bulleh Shah's poetry, about self-recognition and merging self with the sublime.
The writer is an independent journalist from Pakistan. She tweets at @umaimablogger.
Amended text, March 1: This piece has been updated to remove text that had been inadvertently included and reflected views of individuals who were not participants of the webinar.